A while ago I released a simple plugin which allows you to manage the mime-types supported by the WordPress inline-uploader. This plugin worked well for most people baring a issue with php shorttags which made it break some sites. However, some people requested an update to the plugin to support adding a large list of mime-types from a file. I am proud to announce that finally after many months of sitting there 95% finished I am ready to release this plugin update.

Here is the detailed list of changes since the previous version:
Added support for mime-types described in a file
Changed the plugin to initialise on the "init" hook rather than at include time
Added support for mime-types described in a file
Fixed the shorttags issues
As ever the plugin adds a new options page as Options … Mime-types which allows you to add/delete the extra mime-types.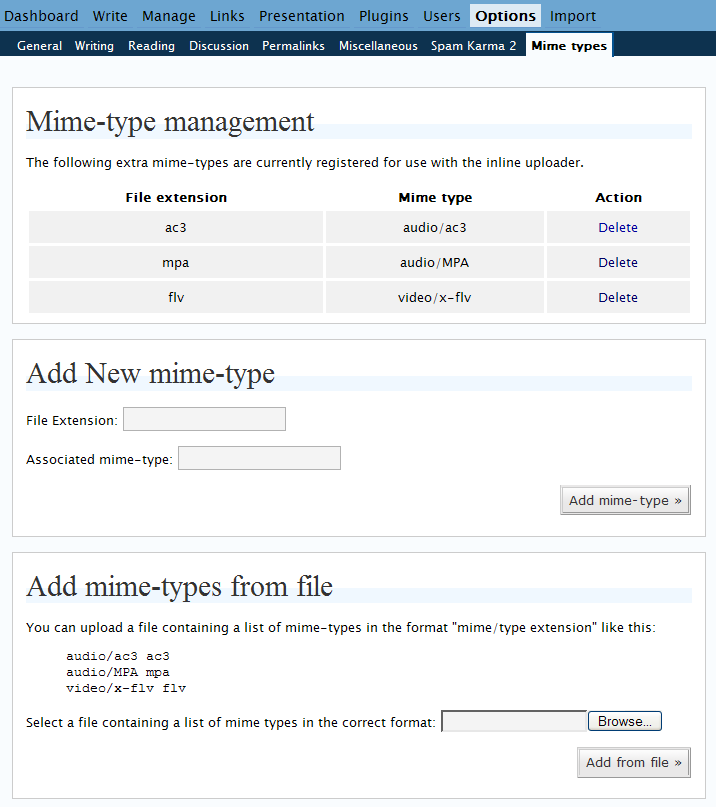 By default the following extra mime-types are registered: audio/ac3, audio/MPA and video/x-flv.
The latest version of the plugin may be downloaded here: pjw-mime-config.0.90.zip