Last Thursday while out for an evening walk I spotted lots of these insects sunning themselves.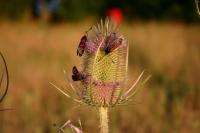 After quite a bit of research it turns out that these are Six Spotted Burnet Moths (Zygaena filipendulae). There where quite a lot of them there I didn't count exhaustively but I think I saw at least 20.
The photo was taken at Southwater Country Park on 14th July 2005.