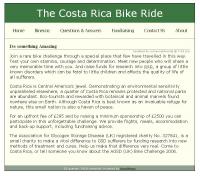 I've spent a long time today trying to create a simple website to replicate the content in a 3 page handout describing a fundraising bike ride being organised by a charity I help. I got involved in the development of this site after volunteering to become the webmaster for the "The Pompe's Disease Page" – which at present is not easy to maintain and is back in the dark ages of table based layout.
I have great plans for updating the main site to use wordpress and make it easier to add new information and get people able to comment on the information and maybe setup bbPress as a forum. However the development of a theme for the main site has been lagging a bit and waiting on v1.5 of wordpress to be released.
Now that photomatt has done the deed and 1.5 is released in a fit of energy today I sat down and started on a theme for the Bike Ride site. After a few hours of work I now have a layout that I am happy with and I've started uploading the content from the leaflet – but as I'm having to type this all out by hand this is taking some time!
Anyway the new site for google to chew on is here – The Costa Rica Bike Ride